BNDPower is one of the most professional laptop battery manufacturer in China,established in 2002,focus on the R&D, produce and export of all types of replacement laptop batteries and AC adapters.As a China professional laptop battery manufacturer, Through six years of effort,we have a over 15000 square meters factory, with more than 30 research engineers and 250 skillful workers. Now, BNDPower has developed more than 850 models and this is constantly updated according to the customers' requirements. All batteries are completely compatible with those famous brands including Sony laptop battery, IBM laptop battery, Lenovo laptop battery, Dell laptop battery, Asus laptop battery, HP laptop battery, Compaq laptop battery, Apple laptop battery, Acer laptop battery, Toshiba laptop battery, Samsung laptop battery, Fujitsu laptop battery, Packard bell laptop battery, Clevo laptop battery, MSI laptop battery,Gateway laptop battery etc.
   With professional R&D, strict manufacturing management ,quality control, efficient sales and patient aftersale service, our high effective team will surely satisfy your requirement for top quality products with competitive price.

Convenient Shipping and Visiting: Our factory location is only 5 minutes way to Shenzhen International Airport, it's very convenient to transport our products to all over the world.Also,this made your visit very convenient.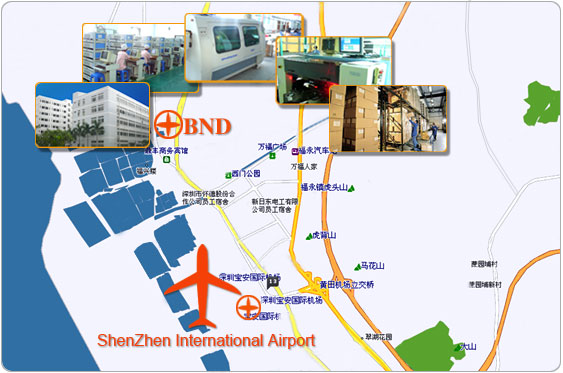 Business Forwarding: BNDPower is just looking for the retailers,resellers and distributors of laptop batteries and adapters in USA,America,Alabama,Alaska,Arizona,Arkansas,California,Colorado,Connecticut,Delaware,Florida,
Georgia,Hawaii, Idaho, Illinois,Indiana,Iowa,Kansas,Kentuc,kyLouisiana,Maine,Maryland, Massachusetts,
Michigan,Minnesota, Mississippi,Missouri,Montana,Nebraska,Nevada,New hampshire,New jersey,New mexico,New york,North carolina,North dakota,Ohio,Oklahoma,Oregon,Pennsylvania,Rhode island,South carolina,South dakota,Tennessee, Texas,Utah,Vermont, Virginia,Washington,West virginia,Wisconsin,Wyoming, United Kingdom,
UK,Germany,France, Italy, Holan,Russia,Canada, East Europe,Middle East,Australia,India,Singapore,Malaysia,
Taiwan and HongKong and etc. as our resellers,distributors and agents of laptop batteries and AC adapters.
  Now, BNDPower Company will continue to take steps to the aim of being a internationalized and high-tech modern
enterprise, focusing on applying high-tech to the productivity. We will try our best to become one of the biggest laptop
battery manufacturer in China and increase the mutual benefit with customers.